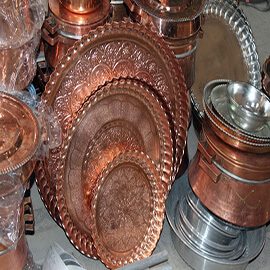 Instruments made by copper and bazaar of coppersmiths
Coppersmith's Bazaar
One of the attractive Iranian handicrafts is the items made by cooper. And although one the most interesting place for everyone is coppersmith's bazaar.


You can find one of these bazaars almost in every city in Iran. These handicrafts are one of the most important things in every Iranian daily life. Why? Because one of these handicrafts made by copper is home appliances that they use them for cocking, serving foods and although for home decoration and etc.


Coppersmith's Bazaar of Tehran is located in Tehran grand bazaar. This market is becoming extinct with the passing of time and progress of society. You may just find four of five coppersmiths in this bazaar that although their business is going to be forgotten while this bazaar is so young.


Coppersmith's Bazaar of Isfahan is located on the west side of Naghsh e jahan square in the north of Alli Qapu Palace. This bazaar was built in the Safavid era and it's one of the oldest coppersmith's bazaar in Iran. These bazaars are famous because of the sound of a hammer blow while coppersmiths are making different instruments with copper.
Coppersmith's bazaar in Iran probably is in Yazd. The bazaar dates back to 600 years ago. In 2002 this bazaar became a national heritage. This bazaar is located in Ghiam street. Every year from all over the world people come to see this bazaar because of its special architecture. This bazaar has a special cultural and historical value.


You can also find a coppersmith's bazaar in Shiraz and almost in every other city in Iran. Coppersmith's bazaar of Shiraz that it's located in Lotfali Khan e zand street and also, it's one of the oldest coppersmith's bazaar in Iran that every traveler must see at least one time.


So why Copper?
Copper is a strong heat conductor, so it helps the food to become ready faster. Also frying the food in these dishes makes the food crispier and tastier.
And even cooking in these dishes is a way healthier than cooking in other dishes because it helps your body to receive enough amount of copper ion that it's totally necessary for your heath.
If you want to have more information about copper importance for body health you can visit:
https://www.medicalnewstoday.com/articles/288165.php