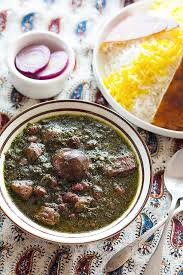 Ghorme Sabzi-Persian Herb Stew
Admin | Food 2019-10-18 00:05:41
Happy Food Day.(16th october)
Ghormeh Sabzi – Persian Herb Stew is one of the most delicious stews in Persian cuisine. A mixture of fragrant herbs and spices ...
Happy Food Day.(16th october)
Ghormeh Sabzi – Persian Herb Stew is one of the most delicious stews in Persian cuisine. A mixture of fragrant herbs and spices makes this stew very special!
This is what most people call "Iran's National Food". It's more than a dish, it's identity.
Now that we have started Publishing about Persian food, I feel like there is so much to talk about and I would love to show you how amazing Persian cuisine is. Persian recipes are full of flavors, some of which might be new to you. Ghormeh sabzi is one of those recipes that every Iranian family makes and loves. It's known to everyone and many know the recipe by heart. Ghormeh means fried with an old fashioned Persian method and sabzi means herbs. Herbs are the base of khoresh (stew) ghormeh sabazi which are sauteed in some oil and then mixed with other ingredients cooked over medium heat to perfection, then served with Persian style rice (kateh or chelow).
Like having fresh bread in the morning, having ghormeh sabzi – Persian herb stew on Fridays has been a ritual in our family for generations, just like a Sunday pot roast or a Friday night pizza. In Iran, Friday is the last day of the week on which people don't work and usually stay home. We always had ghormeh sabzi on Fridays because the best part of having ghormeh sabzi is actually being hypnotized by its aroma while it's simmering to perfection for hours.
Let's take a look at ghormeh sabzi ingredients. To make this delicious stew you need herbs, meat, beans and Persian dried limes. Here are some notes about each ingredient:
Herbs: parsley, cilantro, chives and fenugreek (also called Shanbalileh). If fresh fenugreek is not available, you can always find dry ones online (affiliate link), which will work just as fine. Make sure you don't use too much fenugreek as it will make your stew taste bitter.
Meat: Traditionally, ghormeh sabzi is made with lamb chunks that are cut into 2″ pieces. However, it tastes great with beef stew meat, too. Also, if you want to make this dish vegetarian, you can easily leave the meat out.
Beans: Ghormeh sabzi can be made with 3 different types of beans: pinto beans, kidney beans or black eyed peas. I grew up with the kidney beans version but I've tried pinto beans and black eyed peas (mostly common in Tabriz) and they're amazing, too. Traditionally, dry kidney beans are used in ghormeh sabzi recipes but canned beans can be used, too, I've talked more about that in the notes and tips.
Persian Dried Limes: These give an amazing subtle sour flavor to the dish. They are different from regular limes as they're dried and the color is light brown. You can order them online on Amazon (affiliate link). (Note:If you don't like sour flavor you can delete this one from your food)
HOW TO MAKE GHORMEH SABZI WITH DRIED HERBS?
It's interesting to know that you can make ghormeh sabzi using dried herbs. You can find dried herbs to make this Persian stew here (affiliate link). I personally prefer using dried herbs to fresh herbs for two reasons: first, it's much easier than washing the herbs, drying and chopping them and second, it takes less time to make ghormeh sabzi using dried herbs.
You need 5 tablespoons of ghormeh sabzi dried herbs mix per person. Soak dried herbs in water for 10 minutes and squeeze hard so all the water is released. Heat some oil (I use olive oil) in a large skillet and once hot, saute the herbs for 15-25 minutes until they're aromatic and a little dark in color. Then proceed with the recipe as stated and you'll have a perfect ghorme sabzi!
HOW CAN I MAKE VEGETARIAN GHORMEH SABZI?
Easy! You simply leave the meat out and proceed with the recipe. Start with preparing the sauteed herbs (dried or fresh method). Then heat some oil in a pot and saute some chopped onion until golden brown. Once the onion is ready, add in the turmeric and give it a nice stir. Next, add in water, bring it to boil and then add the beans (if not already cooked). Once the beans are half cooked, add in the sauteed herbs, bring to simmer again and let it cook for an hour. Lastly, add in the poked Persian limes and cook for another 15 minutes.
I've seen my vegetarian friends adding mushrooms to ghormeh sabzi and I think it is really delicious. If you're planning to leave the meat out, you might want to saute some mushrooms with the onions.
NOTES AND TIPS TO MAKE GHORMEH SABZI:
If using canned beans, add them right before adding Persian limes to the stew. As they're already cooked, we don't want them cook in the stew for long.
Ghormeh sabzi tastes best the next day. I love to mix it with some rice and then heat it in a pan over medium heat. Comfort food, Persian style!
Ghormeh sabzi, or any other Persian stew is served with rice. You can serve the rice in a large platter and the stew in bowls to be shared by two or three people at each side of the table. You can also serve it in a large serving dish, or divide it into individual bowls for each person.
Ghormeh sabzi should be almost as thick as chili. It shouldn't be watery. If you notice that the stew is too watery, just turn up the heat and wait for the excess water to evaporate.
Don't forget to add salt and pepper to the stew before serving.
What I hear a lot from people is that Persian food looks complicated and difficult to make. They say that there's just not enough time to make these beautiful dishes!
WHAT IF I TELL YOU THAT IT'S NOT DIFFICULT TO MAKE PERSIAN RECIPES? IT'S JUST NEW.
New might seem scary or intimidating. But it's not impossible. Make it a fun challenge for yourself to try new food. Persian food shouldn't be just the desk lunch your Persian coworker brings and you get to have a bite or a faded memory from you 3rd grade Persian friend's school lunch which was probably ghormeh sabzi when everyone else had PB&J. Persian food can be a delicious soup you make on a winter evening or a delicious fresh pot of ghormeh sabzi on a Sunday with your non-Persian family in the comfort of your home.
With a little direction and help, which I hope I can provide, you can make amazing Persian recipes at home and enjoy a new aspect of Middle Eastern food that's beyond everything you've ever tried. It's new, it's exciting, exotic and so fun!