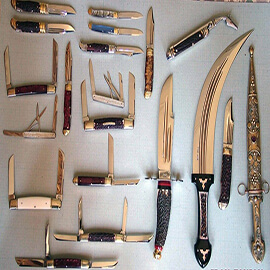 Most famous handicrafts of Zanajn
Knife making is one of the oldest and most famous handicrafts of Zanajn.
Today, we know very little of its history. However, according to historic documents and travel notes we can conclude that from the 17th century Zanjan was a city where knives, swords and daggers were produced immensely and a lot of knife making workshops were installed. But due to their design, cut, diversity and durability, Zanjan knives have been the most successful of these crafts. The most important material for Zanjan knives is Iron. The handle was made from materials such as elk horns, sea shells, wood, fiber or ivory. In the past inlay was applied to the handle too, but today this is done using simpler techniques.

The most important tools used by the cutlers are hammers, sledgehammers, scissors and kilns. To make a knife, first the master heats the iron in the kiln. After it reaches the proper degree, it is forged into knife, sword, and dagger blades by the impact of the hammer. Then he skillfully creates the handle using materials like horns or ivory and attach it to the blade. Finally the blade is grinded and chrome plated.

The knife makers of Zanjan usually carve their name into the blade. Gems, jewelry, filigree, pieces of sea shells and ivory are some of the ornates they add to their creations. From small decorative knives that are used as key chains to large swords, a wide range of products are made in the workshops. The handle provides a chance for the artistry of their makers who try to add to their beauty and uniqueness as much as possible. Characteristics such as spring assisted-like opening, high sharpness of blade and very good grip are some of the traits of Zanjan knives. Based on appearance and number of pieces, these knives can be divided into two groups of simple and complex.